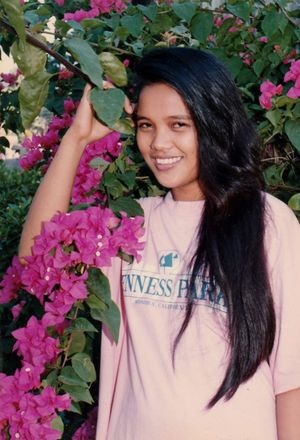 CELESTINE was originally from a small town named Lunao near Gingoog City in the Southern Philippines. She grew up as the youngest of three sisters and four brothers. Her brothers all played instruments and her sisters all sang. Their father was an elder in a small church and the brothers and sisters all provided the music so Celestine grew up with a love of music along with her love for Jesus. Getting together with friends and singing contests were two of the favorite pastimes in their small community. Life was simple but Celestine dreamed of a life where singing and glorifying God would take priority.

Meanwhile, on the other side of the earth, a keyboard player by the name of Michael was ending a tour with his rock band when he was taken ill. Believing it was a result of the lifestyle of being on the road for years and constant partying, he didn't take it seriously. Then, given at the most six months to live, it was definitely time for a change. Praying to God for help, he was led to a penpal named Celestine. They remained friends for two years, made stronger with their love of music until her father invited Michael to come to the Philippines for a visit and to meet with their family.

It was then that Michael could see what God had planned for him. Though the music they enjoyed were two completely different styles, they began to appreciate each other's tastes in music. Eventually collaborating on several compositions, they offer this musical journey to a place not often traveled...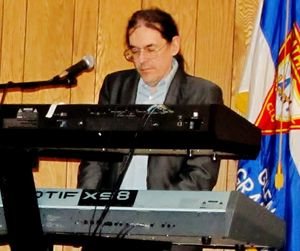 "I was at an all time low in my life when Jesus picked me up. Now I'm soaring high on the wings of an angel…" Mike B.


Michael had wanted to be a musician since he was little. He had big plans for his life. So did the Devil. But he finds out God has even bigger plans for him … Here's a little piece of the story…

Michael had toured for years with his rock band before being taken ill. Years of alcohol, cocaine, heroin, and pills had finally taken its a toll on his body. Finding himself in the mental ward of a local hospital, he wondered where he had gone wrong. His uncle searched hospitals since Michael had always contacted him when returning after touring. He finally located him, admitted as "JOHN DOE" since he had no ID's and couldn't remember his name.

His uncle Thomas had him transferred to another hospital that was familiar with Michaels's past. One lung had collapsed, kidneys were not functioning properly, the heart needed valve replacement, and his liver was failing, which was the reason for not remembering his name. The doctors gave him six months to live before his body would completely give up.

Knowing he was at his end, he did some "soul searching." Many regrets flashed through his mind. " I never had any kids, did a lot of things but they were all for myself, always selfish things." Praying, really praying for the first time for forgiveness he asked God if he ever had a chance to do it over it would be completely different. He would do things to help others not make the same mistakes and to dedicate his time to better things. He was feeling a new feeling – faith…

Within days the doctors were confused about test results. Liver functions were returning and he was gaining strength – finally strong enough for surgery. So the heart valve was replaced and Michael's condition continued to improve. Within three months of entering the hospital, never expecting to leave it alive, then being released to return home he knew there was a power in control greater than himself and the doctors. He prayed again for guidance since he was traveling a road he had never been on before.

That was fifteen years ago! Praise God! Since then, Michael met and married the love of his life Celestine, has two great daughters, Farrah Claire 10 and Iannah Bree 3. Since then he dedicates his music to the Lord…..

This is an excerpt from the story of Mike's experiences. He prays that if and when it is finish it will be an inspiration to others that have followed a similar path.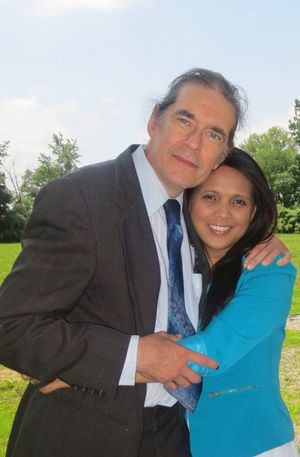 Celestine and Mike have been writing and performing together as a duo since 2000. They had released their first CD "Show Me The Way" in 2004.
Her singing career began in the United States when she met musician/songwriter Michael Barry. 

Michael was classically trained on piano since he was eight years old. He's been writing songs since he was 11. His rock bands CDs have been released in 16 countries and has toured in many of them. When he and Celestine met, a new musical direction was created for both of them.

Celestina Abrea Credo Barry was born in Lunao, Gingoog Misamis Oriental, Philippines. Since she was little, she always had a passion to sing but was too shy to do it. Her father would look for her to sing in their church. She would be hiding since she didn't want to sing in front of people. But he would find her and drag her in to the pulpit and she would then sing. She was told if she didn't use her talents God would take them away. She prayed that one day she would be able to give glory to God and bring people to Him through her music. So eventually she didn't have to be dragged up to perform.

As a teenager, Celestine loved writing almost as much as singing. She had many pen pals all over the world. One of them was Michael Barry, a keyboard player from Chicago. She never dreamed that he would be the answer to her prayer.

Michael started writing Celestine in 1997 after seeing her picture in a magazine. It was many letters later that Celestine let Michael know she liked to sing. She asked if it was OK if she sent a cassette tape for him to listen to. After he received it, Michael wondered why she wasn't on it, only recordings of Karen Carpenter. After a few listens, it was obvious it wasn't Carpenter, but Celestine copying her favorite singer...

After two years of communication, their friendship grew into more and Michael decided to visit Celestine in the Philippines. So the plane ticket was purchased and the visit to a beautiful place turned into a meeting of two totally different people with God as the matchmaker...

In 1999, they got married and Celestine eventually moved to Chicago with her parent's blessing. Their musical styles intertwined into the music you hear today...
 
Looking back, the Holy Spirit had been guiding them the whole time to where they are today. Praise God!
UPDATE: After battling heart disease for years, Michael had finally rested in Jesus in September of 2015. We are looking for the day when we will be able to spend time together and play music for eternity with Jesus very soon. Revelation 21:4 "And God will wipe away every tear from their eyes; there shall be no more death, nor sorrow, nor crying. There shall be no more pain, for the former things have passed away."